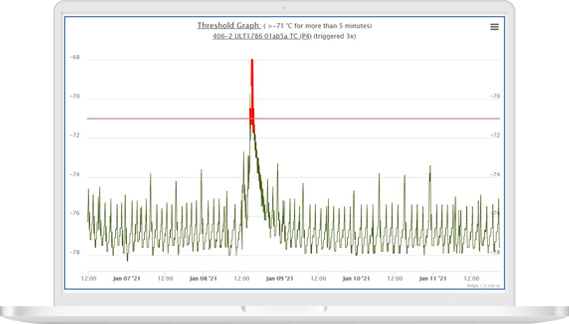 A Monitoring System Built With Your Needs in Mind
The CORIS lab temperature monitoring sensors are designed to monitor temperatures in all types of cold storage devices, a list that includes liquid nitrogen (LN2) tanks and dewars (-196°); -80°, -40° and -20° freezers; +4° refrigerators and +37° incubators. With real-time temperature data, automated reports and customizable alerts made available to users via any web-based device, you can proactively manage the quality and safety of your lab samples, all while increasing productivity.
How the CORIS System for Lab Temperature Monitoring Works
STEP 1
TEMPERATURE MONITORING PROBE
Each temperature-controlled storage device includes a monitoring probe that measures and records the temperature in real time. Probes are available in a variety of lengths to suit individual needs.
STEP 3
LORA GATEWAY
The LoRa gateway, known for its wireless ability to penetrate concrete and cinder block walls, forwards readings to the CORIS cloud. Each gateway can communicate with over 100 wireless modules.
STEP 5
WEB-BASED UI
From any web-enabled device, users have 24/7 access to device temperature data, reports and alerts. Intuitive navigation paired with a highly customizable setup maximizes efficiencies.
STEP 2
SENSOR MODULE
Depending on the type of appliance, either an extreme temperature sensor (ETS) module or a temperature and humidity level (TH-L) sensor module will wirelessly transmit temperature data to the gateway. Readings are sent to the gateway every 2 minutes.
STEP 4
CORIS CLOUD
Temperature readings sent to the CORIS cloud are logged and compared to established thresholds, with alerts sent out if trigger conditions are met. Once logged, data is stored in the cloud forever.