In large research institutions or facilities, organizing temperature alerts for hundreds of staff members and their freezers, refrigerators, incubators, and other devices that need to be monitored can be quite challenging. By enabling each person to only monitor and receive alerts for the devices that are important to them, you can dramatically improve staff productivity, and reduce the complexity of having to sort through every monitored device and every staff member in a large organization.
An Introduction to the Teams Feature
Within a global CORIS account, the Teams feature enables lab managers and administrators to create smaller groups within the master account. Each of these groups can have different members and different devices monitored, with the ability to add new users and devices/sensors at any time.
Each Teams user sets up their own username and password to access the CORIS system and will only be able to access or "see" the devices/sensors assigned to their Teams group. There are no limits on the number of Teams groups or the number of Teams users or devices that can be monitored. Further, additional Teams users and monitored devices can be added any time.
Each Teams user has full access to all of the state-of-the-art features in the easy-to-use CORIS system. These features include:
Any number of alerts can be established within a Teams group, grouped by type of device being monitored (e.g. LN2 tank, ULT freezer, -20℃ freezer, +4℃ refrigerator, incubator, ambient temperature and humidity, etc.) or customized alerts for individual devices based on their unique operating conditions

Alerts have both temperature thresholds and time interval thresholds (e.g., only send alerts if the temperature stays above the alert temperature threshold for more than 15 minutes)

Alert escalation for worsening conditions (usually defined as possible problem, definite problem, or urgent problem)

Alert repetition to ensure staff knows a condition is ongoing but not worsening

Each user chooses how they want to receive alerts (e.g., text, email, phone, or any combination of these communications), with the ability to choose different options

Within a Teams group, users can receive alerts for only those monitored devices that matter to them (they don't have to receive alerts for all devices within their Teams group)

Alerts are sent out in the event of a power or internet outage

Automatic notifications are sent out once alert conditions are resolved

Generate graphs or reports on demand or on an automatic scheduled basis

Create customizable graphs and reports that only include devices/sensors within the assigned group, and only include statistics that are relevant to the report recipients
While streamlined temperature monitoring alerts and reporting simplify day-to-day operations, having quick access to any device's history provides meaningful insights fast.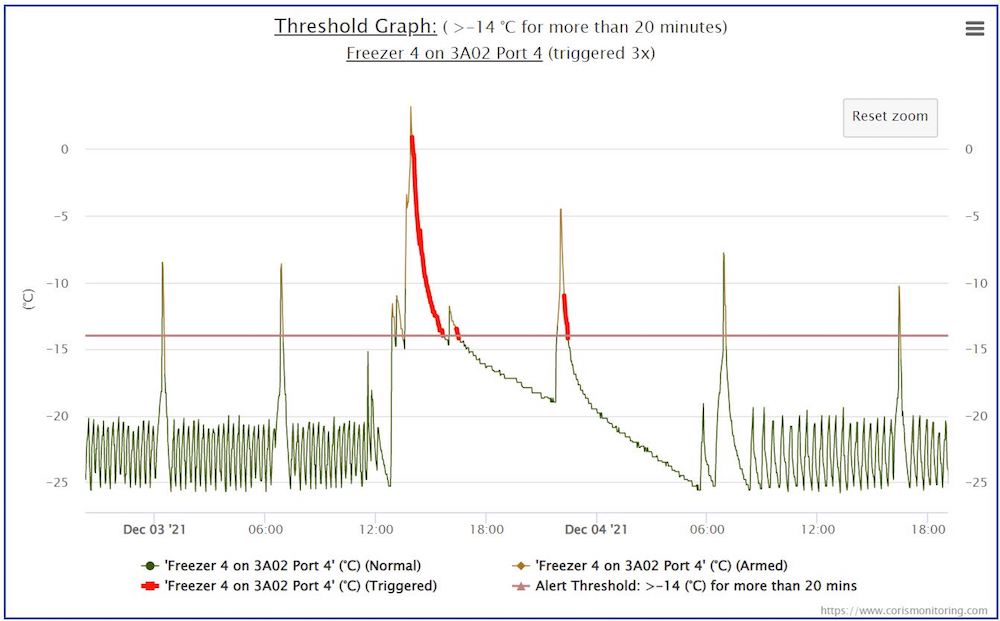 Reporting graph for individual freezer based on designated thresholds. In this case, the lines in red are indicative of a threshold that has been exceeded for 20 minutes, and triggers an alert.
From a naming convention standpoint, each of the devices will be given a name that is meaningful within the group (e.g., "-80℃ freezer #5 in room 716"). By customizing each monitored device's name, staff members will instantly know which device is generating the alert, and take the appropriate action.
Who Can Benefit from the Teams Feature?
The Teams feature is especially useful for laboratories with multiple working groups in multiple locations. That way, each Teams user will only have to deal with the devices/sensors in their location or lab, and won't be concerned about the hundreds or thousands of other users and devices/sensors within the global account. 
In many cases, the Teams feature can also be a good fit for smaller organizations — specifically, when a staff is organized by different departments, working groups, locations, or other divisions.
The Unique Benefits to Global CORIS Users
Global users have access to all of the devices and all staff members in every group, giving them oversight of and management capabilities over all departments and locations for the entire institution. These users can set up their own alert thresholds for any devices in the organization, separate from the individual group alerts, as desired. Likewise, they can set up automated reporting on all devices in the enterprise, with the flexibility to create separate reports for different categories of devices, for different regions, or any other subset they want to review.
Let's use the example of a central facility manager. As a global user, the facility manager of a research institution can oversee all of their account's devices (with real-time temperature readings), and generate on-demand reports to assess device performance to drill down on problem areas. They can then use these insights to support initiatives to improve energy use, lower maintenance costs, improve problem response times, and more.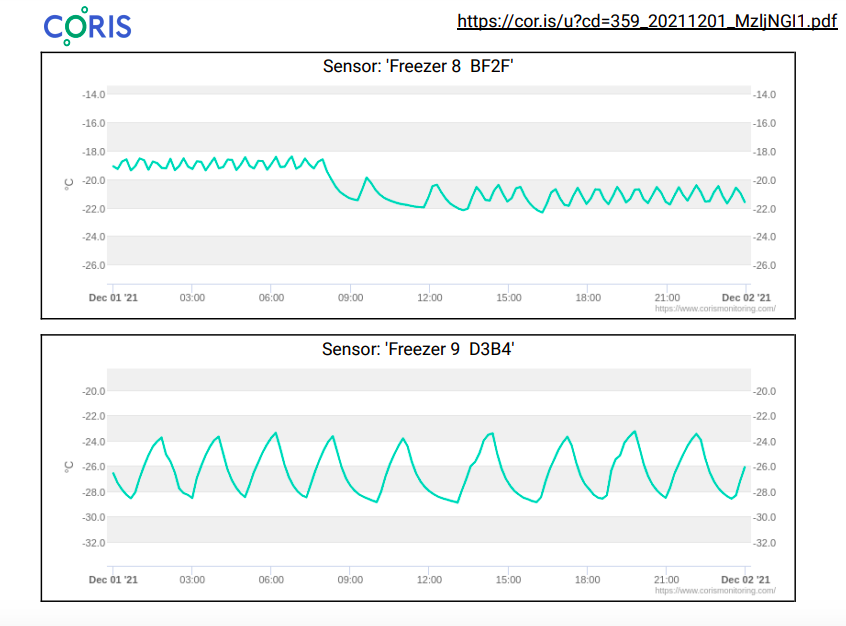 See a full sample report here.
Another potential global user is the regional manager for a multi-location organization. The ability to generate a single report for freezer/refrigerator performance in all of the locations within their region makes it easier to ensure compliance and guide data-driven business decisions.
Have questions about the Teams feature or other capabilities within the CORIS system? Connect with our team today, and we can help provide answers.