Streamlined Lab Freezer Maintenance, Powered by CORIS and MultiTech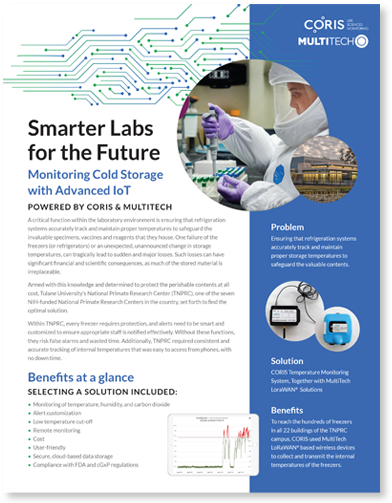 A critical function within the laboratory environment is ensuring that refrigeration systems accurately track and maintain proper temperatures to safeguard the invaluable specimens, vaccines and reagents they house. One failure of the freezers (or refrigerators) or an unexpected, unannounced change in storage temperatures, can lead to sudden and major losses. Such losses can have significant financial and scientific consequences, as much of the stored material is irreplaceable.
Armed with this knowledge and determined to protect the perishable contents at all cost, Tulane University's National Primate Research Center (TNPRC), one of the seven NIH-funded National Primate Research Centers in the country, set forth to find the optimal solution.
Within TNPRC, every freezer requires protection, and alerts need to be smart and customized to ensure appropriate staff is notified effectively. Without these functions, they risk false alarms and wasted time.