Multi-Layered Monitoring for Full Transparency of LN2 Tanks Storing Reproductive Tissue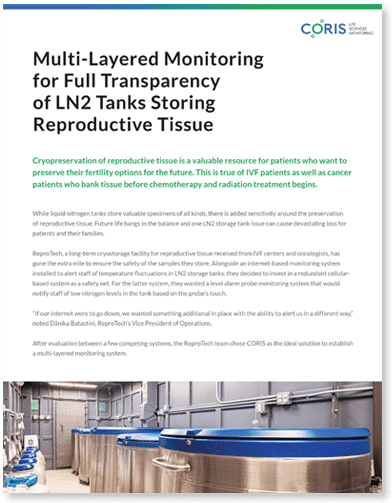 ReproTech, a long-term cryostorage facility for reproductive tissue received from IVF centers and oncologists, has gone the extra mile to ensure the safety of the samples they store. Alongside an internet-based monitoring system installed to alert staff of temperature fluctuations in LN2 storage tanks, they decided to invest in a redundant cellular-based system as a safety net. For the latter system, they wanted a level alarm probe monitoring system that would notify staff of low nitrogen levels in the tank based on the probe's touch.
"If our internet were to go down, we wanted something additional in place with the ability to alert us in a different way," noted Dänika Batastini, ReproTech's Vice President of Operations.
After evaluation between a few competing systems, the ReproTech team chose CORIS as the ideal solution to establish a multi-layered monitoring system.