For One Ice Cream Manufacturer, One Alert Could Save $90,000 in Product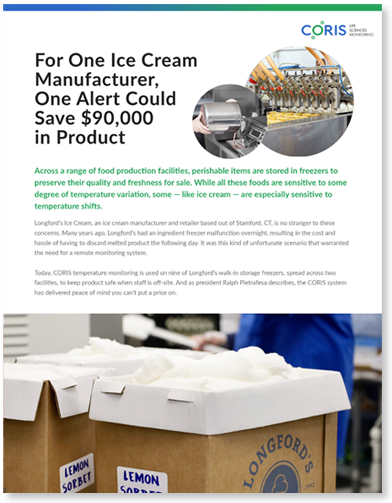 Across a range of food production facilities, perishable items are stored in freezers to preserve their quality and freshness for sale. While all these foods are sensitive to some degree of temperature variation, some — like ice cream — are especially sensitive to temperature shifts.
Longford's Ice Cream, an ice cream manufacturer and retailer based out of Stamford, CT, is no stranger to these concerns. Many years ago, Longford's had an ingredient freezer malfunction overnight, resulting in the cost and hassle of having to discard melted product the following day. It was this kind of unfortunate scenario that warranted the need for a remote monitoring system.
Today, CORIS temperature monitoring is used on nine of Longford's walk-in storage freezers, spread across two facilities, to keep product safe when staff is off-site. And as president Ralph Pietrafesa describes, the CORIS system has delivered peace of mind you can't put a price on.